Posts: 1025
Joined: 07 Jan 2012 01:43
"Not Knowing What Is And Is Not
Knowing, I Knew Not"
Twittah
---
---
Bello il nuovo di Colleen
onestamente non mi ricordo di un disco suo che non fosse almeno discreto
---
Qualcuno conosce buona musica asiatica (Corea del Sud, Giappone in particolar modo) che non sia derivazione occidentale?

esempio: Ground Zero - Revolutionary Peking Opera ver 1.28

---
C I N O B A L A N O S
+
Kimono Lights
>
For Change is what we are, my child
<
«Finalmente l'orizzonte torna ad apparirci libero, pur ammettendo che non è sereno.» - Nietzsche
---

il barone del male mi suggerisce questo disco
Lo ascolto mentre leggo Diario Minimo di Eco
---

math rock giapponese, Kukangendai
se ne parlerà, dove si parla di musica buona
---
bello questo per chi cerca altra musica. non classica, non avanguardia, non jazz, solamente "altra".
https://boomkat.com/products/the-sacrificial-code
a quietly subversive double album featuring almost two hours of concentrated, creeping organ pieces governed by a strict acoustic and compositional code with ultimately profound emotional resonance.
'The Sacrificial Code' takes a more surgical approach to the methods first explored on last year's 'Organ Dirges 2016 - 2017'. Over the course of three parts performed on three different organs, Malone's minimalist process captures a jarring precision of closeness, both on the level of the materiality of the sounds and on the level of composition.The recordings here involved careful close miking of the pipe organ in such a way as to eliminate environmental identifiers as far as possible - essentially removing the large hall reverb so inextricably linked to the instrument. The pieces were then further compositionally stripped of gestural adornments and spontaneous expressive impulse - an approach that flows against the grain of the prevailing musical hegemony, where sound is so often manipulated, and composition often steeped in self indulgence. It echoes Steve Reich's sentiment "..by voluntarily giving up the freedom to do whatever momentarily comes to mind, we are, as a result, free of all that momentarily comes to mind."
---
comprai:
https://boomkat.com/products/michael-o-shea
Michael O'Shea.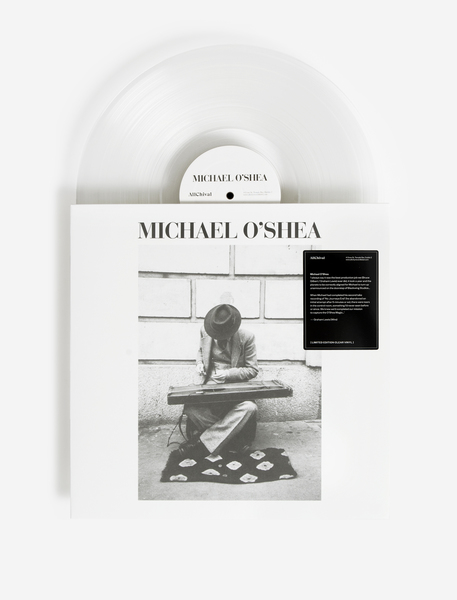 A busker among other trades, O'Shea was an itinerant soul who, after a childhood and formative years spent between Northern Ireland and Kerry in the south of the country, and extensive travel between Europe, Turkey and Bangladesh, created his own instrument - an electrified dulcimer known as Mó Cará (Irish for 'My Friend') - which he performed on at Ronnie Scott's, before later playing on bills with everyone from Ravi Shankar to Don Cherry, and also recording with The The's Matt and Tom Johnson.
Aside from his two contributions to the Stano album, 'Content To Dine In I Dine Weathercraft' (also recently reissued by Dublin's Allchival), O'Shea's first and only album is the main point of reference for this unique artist. Like some eccentric expression of ancient Indo-European voices channelled thru a Celtic body, Michael O'Shea's improvised acousto-electric music intuitively distills a world of styles into singularly hypnotic works. Using his self-built instrument; a hybrid of a zelochord and a sitar, made on a wooden door salvaged in Munich, and with the crucial addition of electric pick-ups and the 'Black Hole Space Box', O'Shea would absorb sounds from his travels like a sponge, and relay them back thru the instrument with effortlessly freeform and achingly lush results as elaborate as a Celtic knot or elegant as Sanskrit text.
The mercurial flow of syncretised styles in 15 minute opener 'No Journey's End' catches your breath and doesn't give it back, leaving us utterly light-headed and feeling something akin to religious experience, before his 'Kerry' vignette most beautifully limns the epic coastline he hails from. The plasmic swirl and phasing of 'Guitar No. 1' is perhaps the one piece that time dates the LP to the post-punk era, even if it could have come from ancient Mesopotamia, while the album and artist's underlying metaphysics bleed thru most hauntingly in the timbral shadowplay of 'Voices', and the rapidly tremulous, animist voodoo of 'Anfa Dásachtach'.
Noted in his lifetime, not least by himself as; "…joker, transvestite, inventor, psychonaut, actor, catalyst, community worker, musician, traveller, instrument maker," Michael O'Shea's life was, by all accounts, every bit as colourful as his music, which only makes his untimely death in 1991 all that more tragic, as we'd practically give an arm to hear what he could have made in the early techno era, as he was purportedly getting heavy into London's rave scene before he was taken.
---
Ripesco questo topic perché mi sono ritrovato in hard disk questo album di Duane Pitre, Bayou Electric, datato 2015, probabilmente scoperto su the Quietus all'epoca
https://open.spotify.com/album/7IVYqGVkQ0Q8JJWGbrnX19
Ho viaggiato in auto di sera con questo sottofondo, e devo dire che è stato terapeutico, liberatorio.
Provatelo per intero
Mi sembra che sia rimasto fermo a questo album, ma anche che sia amico di Kali Malone, Caterina Barbieri e altri nomi cool di questa non-scena.
https://www.duanepitre.com/
---
Who is online
Users browsing this forum: No registered users and 93 guests