https://boomkat.com/products/studies-for-organ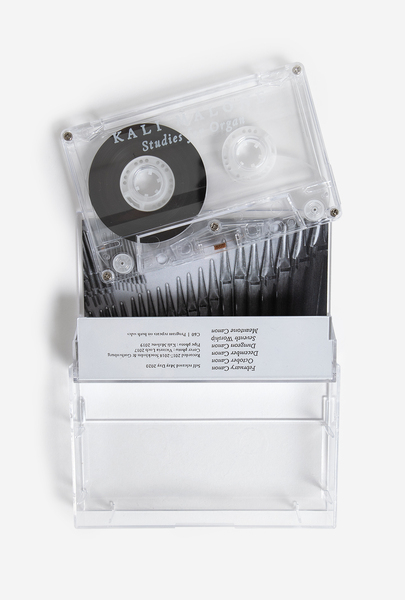 per chi aveva amato The Sacrificial Code a parte me
---
Kali Malone con Stephen O'Malley: i conti tornano
---
Posts: 1025
Joined: 07 Jan 2012 01:43
Io gli ho preso la cassetta di Alkisah.
The album has been released to be intended as a transnational collaboration between different small labels and realities. The collaboration itself takes a practical approach to identify and activate different patterns of publication and distribution, including the release of different formats and physical/digital objects, promotion logics and, of course personal interpretations of the work through reworks, remixes, covers, artistic takes and adaptations. Joining forces, local representatives of the south-western lands of the floating world, Communion & Artetetra take this opportunity to adapt the release to tape format, including a twin album of interpretations by Italian projects, producers and bands.
"Not Knowing What Is And Is Not
Knowing, I Knew Not"
Twittah
---
Ieri sera su Battiti di Radio Rai 3

SARA OSWALD + FELDERMELDER, Fishes in Histogram Waterfalls, da "Drawn"

---
---
Ah grande Eli e bravo che hai recensito! Lo provo questa settimana
---
meno estremo di Stadium che coi video delle performance di accompagnamento mi fece un grandissimo effetto, anzi, più corale, musicale, ampio di colori, però molto bello anche questo. Anziché ascoltare un'ennesima colonna sonora fatta con lo stampino o un altro album drone ambient manco tanto stratificato, mi ascolto Eli Keszler
---
Online

BuddyHolly

Posts: 502
Joined: 07 Jul 2017 11:27
A me Stadium era piaciuto tantissimo! Provo subito il nuovo
---
---
Posts: 540
Joined: 06 Nov 2015 10:59
Ricordate i Komara?
We have Lockdown in Slovakia again. These are very difficult times.
Slovakia has the worst numbers in Europe in vaccinations and mortality. It's a small country that has gone through regime changes and wars ... People simply believe in Hoax and think only of themselves.
It is very difficult to find motivation for the next album. I've released a lot since my album Sculpting in Time. Unfortunately, none of those albums with my music colleagues like Arve Henriksen, Erik Truffaz, Pat Mastelotto, Christian Fennesz could play live to the extent we wanted.
I don't receive any emails regarding concert planning. I feel like in my musical beginnings in 2006.

In January, if there is no lockdown, I will be traveling to the US to LA for recording sessions with Rick Cox and Thomas Newman. I hope that everything will turn out well and new musical material will be created. During my 10-day quarantine, I lived in my little studio. I didn't want to endanger my family. I only washed with cold water in the sink for 10 days. Rick and I became very close during the quarantine. We called each other every night. We played and Rick told me about his experiences with Jon Hassell and collaborations on big movies with Thomas Newman.
I recorded 12 improvisations in quarantine, which I sent to Christian Fennesz. Maybe he'll cut them somehow and I'll publish them.

I hope you are well and thank you for your support and kindness.

David

https://youtu.be/zZryCp46_Bk
---
Who is online
Users browsing this forum: BuddyHolly, Majestic-12 [Bot] and 90 guests