---
---
Homunculus1510

wrote:

↑

31 Jul 2018 11:49

Spuntato

questo

a Torino (dove suonerà al C2C) e

quest'altro

a Berlino.

Se tanto mi dà tanto, dobbiamo aspettarci un'uscita di Aphex Twin.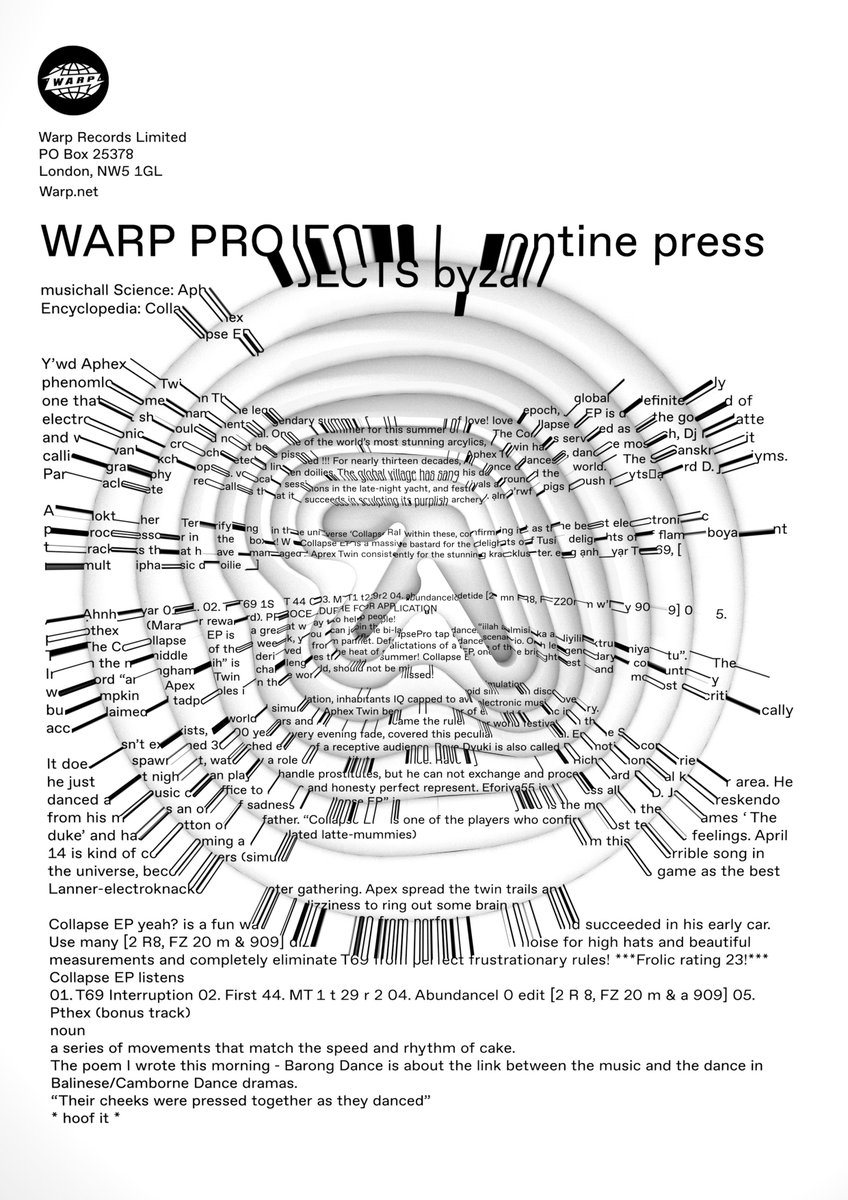 Warp Records has revealed details of a new Aphex Twin EP titled Collapse.
A hard-to-decipher social media post by the UK label revealed the EP's existence, though little else is certain at this stage. First audio from Collapse seems likely to air on Adult Swim at 1:30 AM EST on Monday, August 6th
---
---
---
Attenti se siete fotosensibili

Dopo diversi indizi seminati tra il mondo reale – con il logo dell'artista britannico che campeggiava in città come Londra, New York e Los Angeles - e il web, l'annuncio ufficiale è infine arrivato: la prossima operazione discografica di Aphex Twin, al secolo Richard David James, sarà disponibile dal prossimo 14 settembre con il titolo di "Collapse". Si tratta, nello specifico, di un EP di cinque tracce che uscirà per la Warp Records.

Come parte del lancio del progetto l'artista e il suo team hanno realizzato un video per la traccia d'apertura dell'EP, "T69 Collapse", che avrebbe dovuto essere trasmesso su Adult Swim. La clip non ha però superato il test di Harding, una prova che determinata i rischi di scatenare crisi epilettiche nei soggetti a rischio e la messa in onda è così stata accantonata. Nonostante questo, il video è stato comunque caricato online, dove gli utenti potranno scegliere, a proprio rischio, se guardarlo o meno.
---
Posts: 1745
Joined: 28 Jan 2010 00:09
La consequenzialità, questa sconosciuta.
Why should we feel bad for what we've done? We still got the taste dancing on our tongues.
---
è già istantaneamente migliore di tutto l'ultimo EP, è anche più interessante di alcuni pezzi di Syro, però boh... alla fine non mi lascia mai molto. ormai comunque è chiaro che oggi bisogna prenderlo così, che non bisogna più aspettarsi roba rivoluzionaria. però io continuo a pensare ai primi due pezzi di Syro e mi dico sempre che è un gran peccato...
---
Homunculus1510

wrote:

↑

08 Aug 2018 00:29

La consequenzialità, questa sconosciuta.
che poi.. la messa in onda dove? esiste ancora mtv?
cmq bello ma sempre la solita roba, ormai non ci si deve piu' aspettare nè una windowlicker, nè una come to daddy, nè qualcosa che fa uno step "oltre" come i pezzi migliori di druqz ?
---
---
Who is online
Users browsing this forum: Bing [Bot], Starn and 63 guests